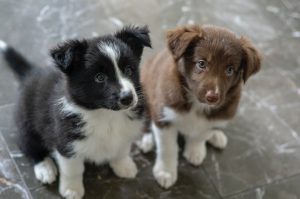 If you are an owner of pets, your floors need to be cleaned on a regular basis. Pets can bring dirt, debris, and allergens with them, which can cause allergies for you and the family. Not only that, but pet accidents will cause some damage to your floors sooner or later. Here is the list of the best type of flooring if you have pets.
Tile Flooring
This type of floor has been one of the best flooring choices for homes and businesses, mostly because it's easy to maintain, lasts many years and can be budget-friendly. Vacuuming and mopping with a quality cleaner is enough to keep it looking good. In case of accidents, tile flooring can easily be cleaned with disinfectant or some water and vinegar mixture. The grout between tiles can even be removed and replaced by a professional if necessary, and with a fresh coat of sealant, even after many years, they will look almost like day 1.
Vinyl Flooring
Vinyl is a decent, budget-friendly choice for anyone who has pets if it's been primed and sealed correctly shortly after being installed. By sealing it you close all the pores, so dirt won't get trapped in. Very easy to maintain once sealed, which makes it an ideal choice for homes with pets or children. Also, as the name suggests, vinyl floors look like real hardwood and tile as well.
Hardwood Flooring
If you're looking for a real hardwood floor, be it oiled or varnished, the main problem with this choice is that it isn't easy to maintain because of scratches and water damage. Especially pet urine can permanently stain the wood. Of course, all those previous issues can be easily fixed by sanding, but one thing to keep in mind is that you can only sand your floor 2-5 times at most depending on the thickness of the wood.
Laminate Flooring
A laminate floor is usually a "wood look-alike" made from multiple layers of synthetic material and compressed. This process makes the laminate floor very durable, scratch-resistant, splash-proof, and affordable, making it an ideal choice for pet owners. As with most floors, we also recommend that you professionally seal these floors to make them easier to maintain and make them waterproof.
Linoleum Flooring
If you're looking for an eco-friendly floor that has great designs and color options, you should consider linoleum flooring. Even though it's made of natural materials, it doesn't have an offensive smell like other materials made from natural products. Also, the patterns on the floor are very appealing, and there is so much variety to choose from that it can easily match the designs or colors of any home. This floor should always be kept sealed with an acrylic water-based polish to preserve the floor surface for many years.
Concrete Flooring
Polished concrete floor has become very common these days because it can easily match any style or decor. It's also durable and easy to maintain. Even if your pet is not able to scratch the finish, accidents will cause damage, so this type of floor is not ideal for homes with pets if not sealed correctly. As most concrete floors still have open pores on the surface, dirt can get stuck in there, and in the long run, it will become near impossible to remove, even for professional floor cleaning companies. If you are set on this floor, please ensure to seal it correctly. The sealant can always be refreshed, ideally every year.
Cork flooring
Cork floors are like softer wood. Budget-friendly, unique look but there's something very important to know about this. If the floor has not been varnished or polished early it's very easy to damage or stain from liquids. You need some sort of water resistance on the floor or when you're cleaning it, it will absorb all the moisture and deteriorate quickly. We don't really recommend this type of floor.
Conclusion
If you have pets, it's always a good idea to get such a floor that can be easily maintained. The best choice is either tile or laminates because they're not only easy to clean, but also scratch and moisture resistant with a great number of sealants available. However, most of these floors are not waterproof or sealed from the factory and some liquids can leave permanent stains on it, if not removed immediately. That is why it is recommended to have floor cleaning and sealing services every now and then because it will not only keep your floor's outlook nice and clean but will also increase its lifespan.