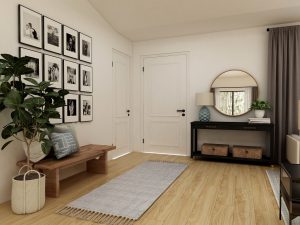 If you're spending a lot of money on new flooring or replacing an old one, you want something that will endure a long time. You need a hard-wearing floor that can withstand high traffic if you have a busy household with dogs, children, and plenty of guests.
Installing a floor and forgetting about it is ideal if you're getting ready to rent out a house. And if you're on a tight budget, you'll want to be sure that your investment will last.
Types of Durable Floorings
Finding the finest long-lasting flooring for their home is difficult if they don't know what they're looking for. Make an informed choice by using the details provided in this article.
Hardwood Flooring
For a long time to come, hardwood floors will outlive all of us if they are properly cared for and installed. However, if we are looking for the most durable hardwood floor, there is a lot to consider. All of this is dependent on the wood's tensile strength, stability, resistance to decay, and other factors.
Tile/ Stone/ Brick Flooring
When it comes to flooring longevity, ceramic tile, natural stone, and brick are among the best in the business. Archaeological excavations of thousands-year-old Greek and Roman mosaic tiles have a reason: they're in near-pristine condition!
Cork Flooring
In addition to its eco-friendliness, cork flooring is popular because of its softer texture than hardwood, which makes it both warm and quiet underfoot. When it comes to durability, cork's pliable and soft nature is both a plus and a minus.
Bamboo Flooring
Bamboo flooring, with its attractive appearance, reasonable price, and eco-friendly label, has been a popular option in recent years. If you're going to buy flooring, you'll need to be aware of what you're getting because of growing offshore production and attempts to cut the cost of the product.
Luxury Vinyl Tile
Luxury vinyl tile and plank, also known as resilient flooring, is a relatively new product in the flooring industry, but it has rapidly become a popular choice because of its durability and adaptability. In addition to high-traffic areas, basements and bathrooms, any room in the house can have it installed.
With a variety of layers, premium Vinyl is able to maintain its structural integrity and withstand wear and tear over time.
Laminate Flooring
We've saved the best for last when it comes to flooring longevity. An excellent alternative to bamboo and cork flooring, laminate flooring is ideal for houses with a lot of foot activity.
Laminate flooring is nearly indestructible if it has a high-density fibreboard core and a clear resin wear coating. As a result of contemporary production processes, laminate flooring is sometimes indistinguishable from real hardwood flooring in appearance.
Final Thoughts
This means that you may pick the best durable flooring for your home from the alternatives described in this article. You now know which types of flooring are the most long-lasting and hence the most suitable for your house.
Folkan Care is confident in its ability to send only the most skilled cleaning professionals to our client's homes and offices. As seen by the many great evaluations we've received in Ireland, we've been working hard to keep homes and businesses clean for the past few years. Too busy to do any of the cleaning yourself? Get in touch with us at +353 89 984 8310 or sergiu@folkancare.ie right now for further information!