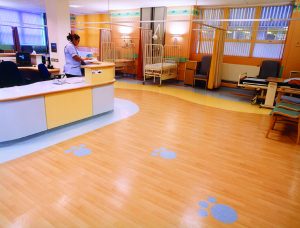 Choosing between laminate and vinyl flooring for a space in your home might be difficult, but here are some things to consider. Laminate was once the most popular flooring material, and millions of people still choose it over vinyl. There is a lot of similarity between vinyl and laminate, as well as a similar price. If you're trying to make a decision between the two, you need to be aware of certain major distinctions.
How Do Laminate and Vinyl Flooring Differ?
Vinyl flooring comes in a wide variety of styles and colors, which is the first thing to observe. The vinyl sheet comes on a large roll. Your entire floor may be covered in one piece in most circumstances.
Vinyl plank flooring, on the other hand, is the most closely resembling laminate to vinyl flooring. In comparison to tiles or sheet vinyl, this is significantly thicker and may be purchased in long strips.
Appearance
Laminate and vinyl flooring have similar looks, so it's difficult to discern one from the other. They both rely on high-quality printing processes to mimic various surfaces. In addition, the tops of both are shielded from harm.
Laminate or vinyl can pass for stone pavement, rustic flooring, or ceramic tiles, depending on your preference. However, if you look closely, you'll be able to tell the difference between this and the original. They will also have a different texture and feel due to the protective covering.
Durability
Laminate flooring is more durable than vinyl flooring due to the differences in their manufacturing processes. Laminates can withstand a lot of wear and tear over time, however vinyl is more susceptible to tearing. If you decide to go with vinyl flooring, be sure to cover the legs of your chairs and tables with protective coverings.
Home flooring alternatives like laminate and vinyl are wonderful even if you don't plan on doing any heavy industrial work at home. What about households with energetic children or pets? Both are highly robust and can handle a lot of foot activity, so there's no need to worry.
Taking Care of and Maintaining
When cleaning laminate floors, homeowners should avoid allowing water to sit on top of the surface for an extended period of time. This will keep it from expanding. Precautions should be taken to avoid color stains on vinyl flooring since it is softer.
Laminate flooring, on the other hand, does not change colour when exposed to sunshine, making it a standout option. Blinds or shades, on the other hand, can help keep the sun out of the space in general.
We're Here to Help with Floor Cleaning and Polishing
There are a number of excellent alternatives to pick from when it comes to floor cleaning and polishing services. The job should be performed by someone or a team that can come to your residence on a regular basis. Folkan Care offers a team of experts ready to assist you in getting the best floor cleaning and polishing possible. Rather than combing through all of the possibilities, let them walk you through all of their flooring options.