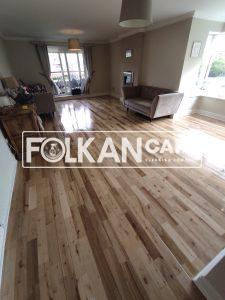 There is a reason why more and more people are ending up installing laminate flooring. Laminate flooring is an affordable yet durable alternative to hardwood flooring. It is because these are made of wood composite but look pretty similar to solid hardwood flooring.
Even more, laminate floors come up with some added benefits as well including:
Easier installation
Cost-effective flooring option
It contains a clear and protective layer
Easier floor cleaning and polishing and many more
Even though laminate floors come up with multiple benefits. However, these still need some regular care. So, here we have everything that you need to know for laminate floor cleaning and polishing. Considering this guide will let you make the most out of your
Best ways to consider for laminate floor cleaning and polishing
Are you wondering how to perform floor cleaning? Well, nothing to be worried about it. It's because here we have brought a complete guide for you regarding floor cleaning and polishing that you must know.
So, here we have how you should perform laminate floor cleaning and polish it in the best possible way.
Vacuum your laminate floors regularly.
Whether you want to speed up your laminate floor cleaning process or make it easier to access hard-to-reach areas. Vacuuming is always the best solution to consider here. Many vacuum cleaners also come up with different attachments, which are specifically helpful to clean laminate flooring. So, you can consider using those attachments to get the best results with ease.
Practice dry moping before spot cleaning
Do you want to prevent surface damage and scratches on your laminate floor? Then, start practicing to dry mop your floor. However, to make the most out of it, aim for a regular wipe down.
For this:
Take a microfiber broom head that can collect all the dirt and debris that get tracked across your laminate floor.
Collect the dirt and put them into the dust bin.
Remember that microfiber broom heads are reusable. So, you must wash them after every or two uses.
However, after completing this task, you can start spot cleaning the floor with a paste of baking soda and water.
Make sure to rub your floor gently, and then remove the paste properly with a fine cloth.
Important Note:
The dry mop isn't only effective for cleaning your laminate floor. However, it can also help in spot cleaning. It is because this way, you can remove dirt particles from your floor entirely. Otherwise, those particles can act like sandpaper in spot cleaning and can ruin your laminate floor easily.
Use gentle cleansers
Whenever it's about to clean your laminate floors, you must use gentle cleansers only. However, it is always better to use these cleansers for effective spot cleaning. For this, you can use them in visibly dirty or stained areas. Then, wipe the area with an absorbent and dry cloth.
However, if you want to get a shinier and more polished look, then:
Mix 1 part of rubbing alcohol.
Add 3 parts of water into it.
Now add one squirt of dishwashing soap only.
Mix everything well and apply it on the laminate floor with the help of a lightly dampened cloth.
This will let you have a more polished laminate floor with ease.
Things to avoid while cleaning your laminate floors
Here are some of the most important things to must avoid while cleaning your laminate floors. So, here we go:
Avoid using a steam cleaner on your laminate floors. It is because moisture and heat can affect the glued layers of laminate floors. Even more, this can also lead to water damage over time.
Avoid soaking your laminate floors with a drippy mop.
Don't use bristle brooms on your laminate flooring. It is because these have a tendency to leave their particles behind. These have the potential to contribute to surface wear. Therefore, it is always better to stick to a dry mop or a soft microfiber mop only to clean your laminate floors.
Don't use products that can add shine to your laminate floors. It is because the waxy buildup is always harder to remove.
Even more, you should also avoid using wood cleaners on your laminate floors. It is because these can leave a residue on your surface. Additionally, these will look streaky as well.
Say no to using any abrasive scrubber such as steel wool or scratchy sponges on your laminate flooring surface. These can lead to scratches on your laminate floors.
Even more, when you are applying baking soda on the laminate flooring, ensure to rub that gently. It is because when scrubbed aggressively, this can also damage your laminate floors.
Even though vinegar is one of the common cleaning agents in homes. However, you must avoid using vinegar to clean your laminate flooring. It is because vinegar is too acidic and can break down the surface if used in a higher concentration. '
Quick Tips to keep your laminate flooring in its best condition
Here we have some of the quick tips for you to follow how to keep laminate floors cleaned:
Make sure to wipe out any wet spills immediately. It is because letting water sit on laminate for a longer period of time is a complete disaster.
Also, place glides or padding on your furniture's bottom.
When you are planning to move furniture, try to lift it up while moving. Also, place padding or carpet under your heavy furniture to avoid any kind of scratches on it.
To keep its shine, use fewer soap-based products on it while cleaning.
Use cleaning agents which are labeled as suitable for laminate floors only. Otherwise, skip using those who haven't mentioned anything on them.
Always throw down a welcome mat to avoid dirt and dust buildup on your laminate floor and keep it protected in the best possible way.
Make sure to consider all the above-mentioned tips to make the most out of your floor cleaning and polishing task. These will let you maintain the best appearance of your laminate floors for a longer period of time.