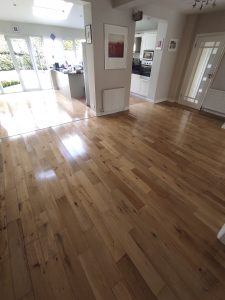 Learning the best way how to really clean hardwood floors at home can make caring for your hardwood flooring easier. Hardwood floors often take a lot of wear including inevitable spills, mishaps, scuffs, and daily traffic.
Not only hardwood floors are best to bring a warm and earthy appearance to your home. Also, this flooring option is durable and aesthetical. Even more, you can maintain it effectively and make it last for decades easily. Moreover, knowing the best way to clean the hardwood floor can let you keep it looking lovely for more time.
How do you clean Step by Step hardwood floors?
Commonly, the best way how to clean hardwood floors at home is trickier. It is because you have to keep them cleaned without even causing any damage to your flooring. So, the key here to consider is to clean hardwood floors methodically. It is because these usually take the greatest wear and tear amount in our homes.
However, here we have enlisted the details of the best way to clean hardwood floors at home you must know.
So, here we go:
Clear your floor
Move all the furniture before starting cleaning the hardwood floor in a room. Using furniture pads is a great way to make it easier for you. This will also let you prevent your hardwood floor from unwanted scratches in the best possible way.
Remove dirt and dust from the hardwood floors surface
Once you have performed the above-mentioned step, now you need to start removing dust and dirt from your floor. Use a microfiber dust mop to clean the surface of the hardwood floor, as it is the safest tool to complete that task in the best possible way.
However, if you prefer vacuuming then you must check the appliance's underside and ensure it doesn't have any stuck-on debris that can cause scratching on your hardwood floors potentially. However, if there is, then ensure to clean the appliance properly before vacuuming your floor.
Additionally, you must use a soft attachment to avoid any damage here.
Use vinegar to make them look fresh
Do you want to make your hardwood floors look fresher and odorless? Using white vinegar can be the best solution to consider in this regard. Fill the bucket with clean water and add white vinegar to about 1 cup in the water. Make sure to mix it well.
Apply it on your wood floor to make it look more amazing.
Important Note:
Finished hardwood floors don't need to be treated with vinegar necessarily. Instead, you can use soapy water only. However, be cautious and never use too much water while cleaning hardwood floors. Or even don't use it often as well. this is necessary to keep your hardwood floors from water damage in the best possible way.
Others also read: Step by step guide on how to keep Amico floors cleaned at home
Use a mop in "S" motion
Now dip a mop or microfiber cloth in the mixture of water and vinegar and start wiping your floor. Ensure to use a mop in the S-like motion to catch the dirt properly rather than just spreading that around.
Make sure to replace the dirty solution when you are moving to the next room every time. This is important to ensure maximum effectiveness in the best possible way.
Important tip:
Be careful and never overload your mop with water and vinegar solution. Or never saturate your hardwood floors with water. For this, you must wring out the mop every time you are dipping it into the bucket with water and vinegar solution.
Make hardwood floors shine with wax or polish
Once the floor is cleaned properly, now you can apply wax or polish as well on your hardwood floors. Applying wax or polish can make your hardwood floors look shinier.
Special cleaning tip for unsealed hardwood floors
Always remember that unsealed hardwood floors are way different than finished and sealed hardwood floors. So, during cleaning, you have to treat them differently. It is because water can be absorbed by unsealed hardwood floors more easily. Ultimately, this will lead to a greater impact on the service life, appearance, and condition of your hardwood floors. So, it is highly important to avoid using water on these floors as much as possible. Instead, it is recommended to use a dust mop to clean your unsealed hardwood floors regularly. So, it couldn't accumulate too much build-up.
While, when a deep cleaning is required for your unsealed hardwood floors, use a damp piece of microfiber cloth and ensure to dry that quickly using a dry and soft piece of cloth. This will easily let you have a properly cleaned and undamaged.
Do you have marble floor installed at home and want to know read how to keep your marble floors shiny at home?
Dos and Don'ts of hardwood floors cleaning?
When you are applying the this steps to clean hardwood floors at home, it is important to know the dos and don'ts of hardwood cleaning as well. This is important to avoid any damage to your hardwood floors in the best possible way.
Well, we have enlisted some of the most important dos and don'ts of hardwood cleaning below that you must know:
Use hardwood floor cleaning products meant for wood cleaning only. It is because using common cleaning agents can cause damage to your floor.
It would be way better to opt for natural cleaning agents or dishwashing soap for spot cleaning. It is because natural cleaning agents would let you get the best results without any scratch or wear to your hardwood floors.
Avoid using oil or furniture sprays on hardwood floors. It is because oils can leave residues while furniture spray can create a slippery effect on hardwood floors.
Always use a vacuum with a soft nozzle. Using brush rolls and carpet beaters can damage the finish of your hardwood floors.
You should use a damp, clean and soft cloth to remove sticky debris as soon as possible.
So, this is what you know regarding the best way to clean hardwood floors at home. To make the most out of hardwood floor cleaning ensure to keep removing dirt from it and avoid unwanted scratches in the best possible way.