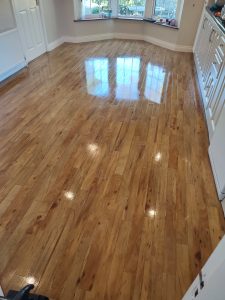 A sleek yet practical kitchen is a fundamental component of a modern home. Due to its importance, you certainly cannot compromise on the quality of materials used while building one. The aim must be to add maximum convenience and aesthetic appeal to your kitchen.
From the requirement to have plenteous cabinetry to ample counter space in your kitchen, the use of heavy appliances, and proper electrical outlets, the vitality of sophisticated flooring cannot be undermined.
The thought of remodeling your kitchen can be daunting when you don't want to exhaust your budget yet create an appealing design statement.
Fortunately, several inexpensive flooring options are available in the market that would serve as an impeccable solution.
After all, you would want to look for kitchen flooring options that are sturdy and durable enough to brush aside all the spills, curb the rigid stain marks and retain all the activity without ending up with a plethora of scratches and dents within a short period.
Here's a comprehensive list of some affordable flooring options that you can explore when remodeling your kitchen without having to stress about breaking your wallets.
Vinyl Flooring
Having gone through considerable remodeling and engineering in recent years, vinyl flooring is one of the best options for your kitchen flooring. Whether it's the final look you're looking at, the durability and maintenance of the flooring or, the installation cost, vinyl flooring offers the best solution.
Widely available in various types, including sheets, tiles, and planks, vinyl flooring makes it easy to recreate the look of the more expensive hardwood or stone material. Laying vinyl flooring is pretty simple, and you could even adopt the DIY route.
With the easy adhesive peel and stick styles, the flooring can be layered over the subfloor if it is in a stable condition and even on top of the present kitchen floor.
One of the main features that homeowners look upon when choosing a kitchen flooring is its ability to retain moisture and hold up volumes of water for long periods. Having the potential to shield the surface against spills and grime, vinyl flooring is extremely easy to clean and maintain. Subtle damp mopping on the floor is sufficient to spruce up the kitchen floor.
However, despite providing considerable resilience and comfort to walk on the floor, the durability of vinyl flooring is questionable since it is not very sturdy and stout. Any movements of large appliances can scratch and dent the floor, requiring extra caution when handling heavy items around.
Laminate Flooring
If you're looking to give your kitchen a sleek outlook, but your budget is constraining you to look out for the expensive, contemporary wood flooring, laminate flooring is sure to provide you with promising results.
An incredibly cheaper alternative to premium flooring materials, it can immaculately mimic the looks produced by ceramic, stone, and wood coverings.
Due to its versatility, the flooring is strong enough to shrug off any scratches and stains caused by constant rough kitchen activity. However, the longevity of this affordable material is limited due to its lower tolerance to water.
The relatively larger seams between the planks tend to collect water, causing bulging along the edges over some time. Since the use of the kitchen revolves around the considerable use of water, any unwarranted spills or leakages, let alone wet mopping, can have an adverse effect on the flooring material.
We recommend conducting thorough market research, as some water-resistant options are available due to the advancements in the inexpensive material, so you can find a durable floor covering for your kitchen that can last you years.
Cork Flooring
One of the greener and environmentally friendly flooring choices, cork, comes from the tree bark, and hence, is typically found in the natural tones of greys and browns.
Among the many budget-friendly flooring options available, cork flooring not only serves as a visually pleasing and practical option, but it is one of the most practical choices. Providing comfortable cushioning to walk on and being stain-resistant, it also has incredible natural insulation properties.
Even though cleaning the cork floor isn't an arduous task, it is not the ideal flooring choice due to the lower resistance to water. Any spills and splashes on the floor need to be cleaned promptly.
Pet owners need to be especially wary of this floor covering as scratches from pet claws can ruin it. Placing or dragging any heavy appliances can damage the otherwise soft and springy floor.
Tile Flooring
Tile flooring is a cost-effective solution that's not just light on your pocket but also eases your cleaning ritual. Giving an elegant and sophisticated look to your kitchen, tiles are a versatile flooring available in a broad range of sizes, colors, and textures to resonate with your kitchen's theme.
Given the minimal price of tiles, in your spree to revamp your kitchen, tile flooring, whether ceramic, stone, or porcelain, is a seamless option as it has far-fetched durability and strength.
From being significantly scratch resistant to providing a neat look, tiles are the perfect choice for your kitchen, an area highly prone to mess.
However, be mindful that the rigidity and hardness of the tiles is capable of causing damage to any fragile utensils dropped on the floor. Frequent deep cleaning of the grout lines is essential to maintain cleanliness; otherwise, the joints might accumulate dirt, stains, and grime.
Attempting to install tile flooring on your own is not recommended since it follows a complicated procedure, and the tiles need to be properly sealed. When getting the tiles installed professionally, you can explore budget-friendly service providers.
Hardwood Flooring
Solid wood flooring gives your kitchen a classic and homely touch. One of the most popular choices for kitchen flooring, you might be skeptical to revamp your kitchen look with this everlasting style due to the high costs it might entail.
Surprisingly, hardwood flooring, whether you choose solid wood or engineered wood floor, is an inexpensive flooring fix that can give your kitchen space an all-new statement look.
From the numerous textures, colors, and grain patterns of the wood to choose from, the affordable hardwood flooring can transform your kitchen into a comfortable setup, adding a contemporary vibe without breaking your bank.
Whether you choose the brilliant hues of dark brown for your kitchen floor or the subtle light tans, a conspicuously grainy pattern, or the smooth sandy finish, the relative durability of the hardwood floors can reduce its longevity. These wood planks have limited capacity for water resistance and may end up causing damage to the covering if water spills are not taken care of right away.
CLEANING YOUR KITCHEN FLOORS
Whether you're willing to spend exorbitantly on the premium floor coverings or exploring inexpensive solutions to keep your budget balanced, it is vital to keep in mind that an essential factor impacting the longevity, durability, and practicality of your flooring is the way it is cleaned.
Meticulous cleaning and stringent maintenance of the flooring in accordance with the material used are essential to keep it intact.
Apart from the regular cleaning rituals of the floors, periodic professional cleaning, including floor cleaning and sealing is recommended to get sparkling and pristine flooring.
At Folkan Care, our highly professional staff carefully assesses your flooring and performs cleaning services aligned to your flooring needs.