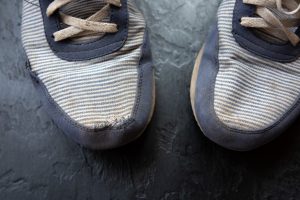 A pair of trainers have become essential for every closet. It is because these are best to make your every outfit pop. You can pair them up with a maxi or jeans perfectly.
Even the comfort, style, and versatility of trainers make them a wardrobe staple for everyone. However, it will require some effort to keep them clean, just like the box-fresh best. Especially, when these are getting dirty with mud.
Fortunately, here we have a few ways up in sleeves regarding how to clean muddy trainers.
A guide on how to clean muddy trainers
Have you just completed a mud run, and your trainers have caked up with mud? Or have you hit the trail after rain and splash via too many puddles? Well, in any case, you must learn how to clean your muddy trainers effectively.
Well, this article has brought a complete guide on how to clean muddy trainers properly for you. As a result, it will be easier for you to clean your muddy trainers and get their best look back with ease.
So, here we go:
Check the care label on your trainers
The golden rule to clean your muddy trainers is to check the instructions on the care label before anything else. Care details on trainers can let you have a better idea about whether you can machine wash them or not. Sometimes, the temperature range is also mentioned there to make things easier for you.
It will help you to keep your trainers in the best condition for longer.
Wait for the mud on trainers to dry.
The very first thing you need to consider here is to let the mud dry out. It is because trying to remove mud when it's not dried properly can push that deeper into the material. As a result, this can lead to permanent stains.
Keep your muddy trainers near the fan or an air vent and let them dry properly.
Wipe the trainers to remove mud
Once the mud is dried, it will become easier to remove that from trainers. You need a stiff scrub brush or a blunt instrument to scratch the cracked mud from trainers. Use this method to remove as much dirt and mud as possible.
You can also use a wet paper towel that can grind dirt into the shoes and cause a stain on the trainers. Therefore, you must use a dry paper towel to remove powdery dirt left from bigger muddy chunks.
Clean your trainers
Finally, once you have removed mud from trainers, now you have to take its insole, midsole, and laces out. And then start washing your trainers.
If your trainers are made of canvas, then:
Apply soap on the brush or sponge, and then rub the trainers' surface gently in a circular motion.
To remove any hard stains, mix baking soda with water and apply that paste to your trainers.
Let it sit there for a while.
Use clean and damped clothe to wipe your trainers properly.
If the stains there are more stubborn, you can use the method twice.
Once you have done all the above steps, rinse your trainers properly and let them dry before using them again.
However, if your trainers are of leather, then:
Use a professional leather cleaner to clean your trainers. And follow the steps mentioned above there.
However, if you don't have a leather cleaner, you can spot clean your trainers with mild bleach or a mixture of white vinegar and water. Even more, make sure to be extra gentle while scrubbing your leather trainers. It will also be more effective to use leather balm once the cleaning process is completed to nourish and keep your leather trainers moisturized.
Clean insole, midsole, and laces of your trainers
Soak everything in a solution of water and baking soda. Or make a solution of soap and water. Then put all of these items in the solution for a while.
After a while, take all of these items out and wash them thoroughly under tap water. Put them outdoor or in the air to dry properly before inserting them back in the trainers.
Dry your clean trainers properly before use
Whenever possible, make sure to dry your clean trainers outdoor. However, it is always important to avoid keeping these under direct sunlight.
If you can't dry your trainers outdoors, it is important to find a dry and warm place with a proper air current. Even more, stuffing your trainers with newspaper and then change it when it becomes damp is an effective way to speed drying. It is because paper can absorb extra water. The process of drying your trainers will accelerate by removing the trainers' insole as well. You can wash and dry insoles separately.
It is always better to avoid putting your trainers in tumble drying to avoid unwanted wear and tear in the best possible way.
However, when it is about the time your trainers will take to dry, then it depends upon the weather. The drying process of trainers can take from hours to a few days.
Can you put muddy trainers in a washing machine?
Most of the modern trainers come up with enough sturdy design to withstand a machine wash effectively. However, it is always important to check the care label first. Even if these are safe to wash in a washing machine. Still, it is better to put your trainers in a mesh bag for ensured protection along with their laces.