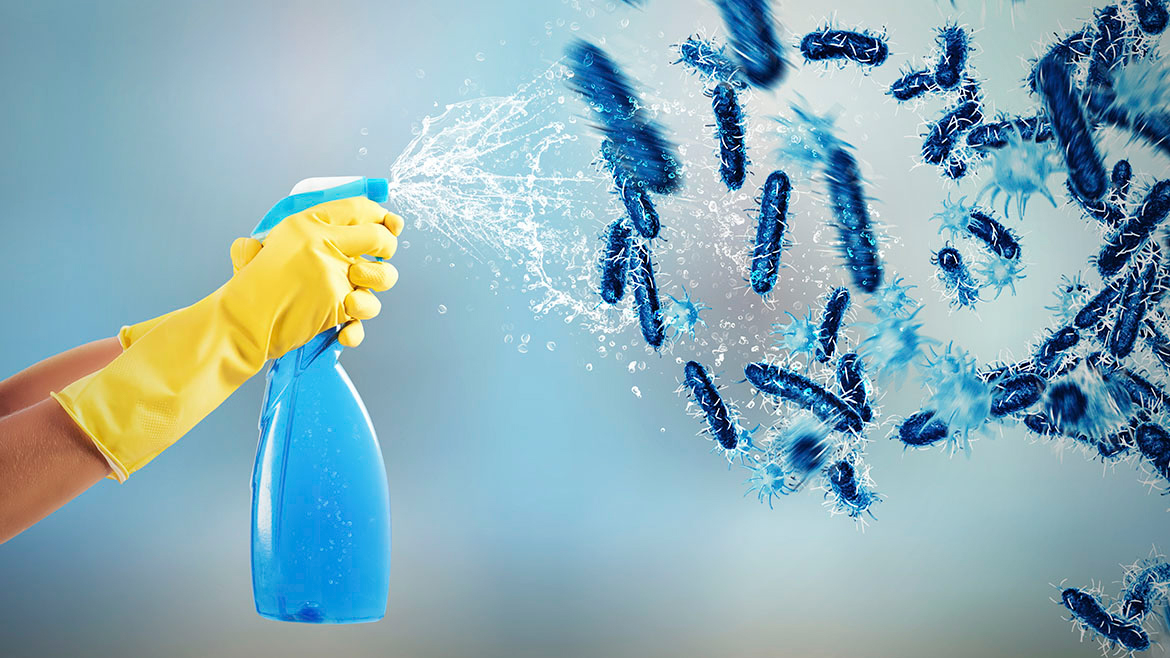 We are often asked questions such as: "How can I disinfect my business by myself without hiring a company?"
Here are 4 simple tips that anyone can follow, without spending too much!
STEP 1: IDENTIFY HIGH RISK AREAS
The reason for this is to focus your limited resources on the most important and high risk areas of your premises.
Look for the places that have the highest 'traffic' and most surfaces in contact with your facility's employees and occupants. For example:
The World Health Organisation encourages cleaning of high-touch surfaces such as:
Counters & Tables
Door Handles
Shelves and racks
Handrails
Light switches
Bathroom fixtures such as toilet & sink
Printers, phones, keyboards, tablets, screens
WHO also recommends the above surfaces be cleaned in the following environments:
Schools and Creches
Offices
Retail Stores
Fitness Facilities
Libraries and Community Centers
Restaurants, Bars and Hotels
Also, the authors of a study featuring in The Lancet Microbe reported that SARS-CoV-2 is more stable on smooth surfaces, such as glass or metal.
STEP 2: COMPILE A SIMPLE CHECKLIST
Once all the high risk areas and surfaces have been identified, compile a simple checklist that your employees can follow, so nothing important is missed,
​
Even better if one employee is assigned to this task. This way you can minimise the damage of an accidental infection and protect the other personnel.
IMPORTANT NOTE: Proper training and PPE must be provided to avoid accidental infection. Visit the HSE website to find out about best practices and protocols.
​
STEP 3: USE THE RIGHT PRODUCTS (
this is critical

)

Most common household sanitation products are "ok",

Disinfecting surfaces with products containing 0.1% sodium hypochlorite (bleach), 0.5% hydrogen peroxide,0.5% benzalkonium chloride or 62–71% ethanol effectively inactivates most coronaviruses, rendering them no longer infectious.

The US Environmental Protection Agency created a list of products for use against COVID-19 (see here) that includes both industrial strength and 'regular' store products. There is also a list of active ingredients proven to kill COVID-19.

Always read the instructions label, as most products have to "sit" on the surface for a certain amount of time before they can kill bacteria/viruses.

Spraying and wiping immediately will not disinfect the area with most products,

Please read the label instructions carefully.

​
STEP 4: BE CONSISTENT
During these uncertain times, as you may agree, it's very important not to fall in a false sense of security and become complacent as this may put your business at immense risk. Remember, one news article with your name on it related to a COVID-19 outbreak and this could potentially be the end.
And not only…
All your employees and customers wellbeeing depends on you actively making the right decisions and taking responsibility.
On a final note,
​
Specialist crews such as ours are well trained to wear proper PPE for the situation and clean in a way to minimize risk to themselves. If you are using your own staff to disinfect the premises, they may accidentally become infected.
In addition, companies such as Folkan Care can accommodate you by schedule after-hours work to avoid contact with your employees and eliminate any person to person interaction.
This is the safest solution, rather than having staff clean during regular business hours.
For all of the reasons above, we believe that every business should be taking advantage of professional sanitizing, and disinfecting services.
And of course, whenever you decide to book in a disinfection service Folkan Care is here for you and happy to help.